Fildena xxx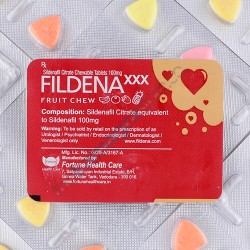 Brand:
Fortune Healthcare
Availability:
In Stock
Fildena XXX composed of Sildenafil Citrate is manufactured by Fortune HealthCare Ltd. The medicine is composed in a most interesting chewable form that is composed of 100mg Sildenafil Citrate. Powerful and effective Erectile Dysfunction condition is manufactured in exciting chewable form for easy oral consumption. A sensational fruity flavored chewable form of impotence treating solution works effectively by relieving Erectile Dysfunction from impotence issue in men. This sensational chewable form of ED medicine is easy for oral consumption and helps in working quickly than any form of impotence treating solution.
Features:
The most exciting fruity flavored chewable tablet is known for enhancing erectile performance and other capabilities in impotent men
Sildenafil Citrate 100mg component in the medicine is Ideal for men that are facing issues for consuming big fat conventional tabs
The sensational chewable tablet works in just 30 minutes of oral consumption for delivering optimum effectiveness that stays in the bloodstream for about 6 hours
Consumption:
Consumption of the innovative chewable Fildena XXX medicine in moderation is recommended safe. The ED treating solution is composed in sensational chewable form for consumption without the intake of water or meals. Chewable tablet is to be taken only once in a day approx. 30 minutes before planned lovemaking session. For gaining maximum effective outcomes, take this medicine in complete moderation in presence of men is sexually aroused.
Working:
Main active component 100mg Sildenafil Citrate in the most effective solution that aids man to boost up the flow of blood by loosening arterial strains. Complete action mechanism of Fildena XXX helps impotent men for staying active with stiff penile for a longer time. The medicine work only when it is chewed in presence of complete sexual stimulation.
Effectiveness:
Sensational fruity flavored medicine Fildena XXX might need approx. 30 minutes for dissolving and starting complete action mechanism. Erectile Dysfunction treating chews are helpful for impotent men and allow them to be active for approx. 4 to 6 hours.
Side Effects:
Fildena XXX might lead to common and less severe side effects including headaches, facial flushing, diarrhea, nasal congestion, dizziness, indigestion, nausea, giddiness, vomiting, and rashes. These mild effects are nothing to worry about as they vanish soon
Some of the men may come across severe effects including loss of vision, anxiety, loss of hearing, prolonged erection, premature ejaculation, painful erection, chills, shivering, abdominal cramps, fever, and irregular heartbeat etc. These severe effects may need medical assistance as soon as possible
You Can get more Information On Fildena
Write a review
Your Name:
Your Review:
Note:

HTML is not translated!
Rating:
Bad
Good
Enter the code in the box below: